Our Voices: Seniors Selfies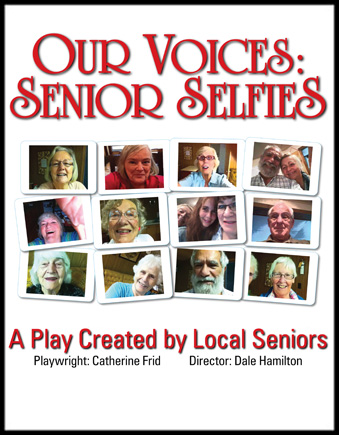 A: When I turned 80, I decided to say what I was thinking.
B: I'm not going to wait until I'm 80!
Synopsis:
Created through a unique collaboration between a professional playwright and a group of seniors, this collection of scenes is based on true stories from the lives of seniors today. Our Voices: Senior Selfies celebrates seniors' empowerment through vignettes that are hilarious, insightful and poignant. These 19 scenes include: "Smart Alec Car Sales;" a mock tv game show "So You Think You Can Help;" the "Best Adult Child" competition with audience voting by ballot; "Quickie;" a (non)conversation about sex; and an original rollicking finale song.
Playwright Catherine Frid worked with a storytelling group of seniors over five months to collect and craft the material for Our Voices: Senior Selfies.
Our Voices: Senior Selfies was funded by a New Horizons for Seniors Grant with support from Eramosa Eden Retreat Centre.
Reviews and Feedback:
Who says seniors aren't adventuresome? Our Voices: Senior Selfies provided an original and cogent portrayal of aging in the 21st century. It's clear that seniors are leading the way for the younger generations to understand the concept of community. Congratulations! –- Judith Carson, President, Guelph Wellington Seniors Association
I was fortunate enough to witness the process that Catherine Frid used to collect stories and facilitate discussion, to create an engaging, entertaining and enlightening play that was performed by the senior participants themselves. Our Voices: Senior Selfies celebrates seniors in so many ways! — Paula Frappier, Homewood Health Centre
You entertained us, made us laugh, made us cry, and made us reflect on our own lives. You touched on so many issues that we all face as seniors and often used humor to lighten them up. We are not alone in our journeys and I thank you for sharing yours. –- audience member
Please extend my sincere appreciation to the cast of Our Voices: Senior Selfies. The standing ovation from the packed house clearly demonstrated the admiration of the audience. Great work! –- John R. Scott, Regional Councillor, Guelph/Eramosa
Production History:
2015 Watercourse Theatre Guelph ON (showcase)
2015 Watercourse Theatre Rockwood ON (showcase)
2014 Watercourse Theatre Eden Mills ON
Photos & Video Archive: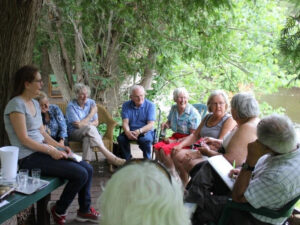 Our Voices video:
Our Voices Co-Creation Scrapbook